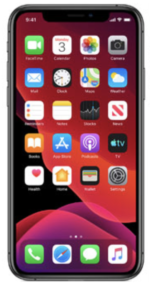 Latest and greatest iOS is now in beta. While we don't have an actual release date for the final version we will keep you up to date on the latest developments. At this time of writing Beta 3 has been released, most important feature we are excited about is dual sim support for 5G.
How can I download the iOS 14.5 public beta?
If you do want to download the iOS 14.5 public beta and try out some of the new features (again, we'd recommend doing so on a device you don't typically use, since there could be bugs), you first have to sign up for Apple's Beta Software Program. To do that, go to beta.apple.com/sp/betaprogram, and click Sign Up. You'll have to enter your Apple ID and password, and agree to the terms and conditions. Tap iOS, and under Get Started, click Enroll your Apple device. From there you'll find more instructions on how to do so.
Once you're part of the program, you can go to Settings > Software Update, and when you see iOS 14.5 Public Beta, hit Download and Install.
What new features will iOS 14.5 include?
Use Face ID with your Apple Watch to unlock your iPhone (Even when wearing a mask) You can now opt in to a feature that allows you to use FaceID to unlock your iPhone if your Watch is on and unlocked. The watch will also provide haptic feedback letting you know it has unlocked your iPhone.
Set a default music player of your choice. You can now set your default music player to other then the Apple Music player, such as Spotify.
More then 200 new emoji. We all love them so we get 217 more of them.
Stream Fitness Plus over AirPlay. You can now stream Apple Fitness Plus directly to AirPlay 2 compatible TVs and devices.
Dual-SIM 5G global support. Phone 12 users will soon have dual SIM support globally, which means you can take advantage of the phone's physical SIM slot and digital eSIM to have two lines of service on the same phone. This support was previously only available in mainland China. 
Siri updates. Siri will soon have the ability to call 911 for you, with a prompt of, "Hey, Siri, call emergency." You'll see a three-second countdown, giving you the option to cancel the request.
Console controllers now supported.
With the update, Apple is adding iOS and iPadOS support for PS5 and Xbox Series X controllers, so you can play games on your phone or tablet. 
You'll also find some design changes to the Podcasts, News, and Reminders apps. 
For more, check out some of the best-hidden iPhone features we've found in iOS 14. And before you make any OS updates, make sure your iPhone and iPad are ready to do so.